Archive: Wilkinson's Revolutionary Drop Goal in '03
We all know that famous Wilkinson drop goal deep into extra time in the 2003 World Cup Final, and most people would say that it started a few phases earlier as the English scrum-half, Matt Dawson, pushed his forwards around the field to set Wilkinson up perfectly in front 30 metres out but it was set up far earlier than that. It wasn't just a move which had been thought up and practiced in training, it was far more than that, it was a mentality.
It began when Sir Clive Woodward took charge in 1997, from that moment forward he was determined to change English Rugby, he put in place a deep seeded mentality that put 3 points was better than nothing and that if the opportunity arose his team would never say no to 3 points in the form of a penalty or drop goal. This became most prevalent after England's failure to succeed in the 1999 World Cup. By the time the 2003 Final came around the Rugby World was more than aware of this game plan.
Even before the World Cup, earlier in 2003 when England travelled and won on New Zealand Soil for the first time in 30 years they did so with a drop goal. Leading up to the final in Australia Wilkinson had converted 7 drop goals in the first 6 games at the tournament, one game to note most significantly was the semi-final against France which England won 24-7 without scoring a try. This game more than most shows the mentality as England scored 24 points through 5 penalties and 3 drop goals. As shown below the three drop goals were all from very different situations and at different times throughout the match. So when answering the question where did this play start it started in the mentality that was so apparent in that 2003 English team.
Once they were on the field it was simple Dawson commanded his forwards in driving the ball into the right area as Wilkinson slowly sat deeper, then one pin point pass from Dawson and Wilkinson connects well on his weaker right foot, booting himself into rugby immortality. Even the thought that someone would take a drop goal on their weak foot instead of looking for points in other ways shows the dedication to the mentality.
That Day in '03 revolutionised the usage of the drop goal dramatically and this still shows in modern day rugby. The biggest change has come in the southern hemisphere teams, as during the late 90s and early 2000s they were the most reluctant to use the drop goal as their game relied a lot on retention of possession and natural flair to break teams apart.
This reluctance to take 3 points is highlighted in the All Blacks quarter final loss to France in '07 as many northern hemisphere teams were accustomed to the idea of taking 3 points and grinding out games, whereas the southern hemisphere teams as previously stated looked down on the idea of taking 3 points in open play due to the boring connotations associated with it and the preference to look for 5.
This development in the Idea of how useful a drop goal can be is clearly shown throughout the All Blacks consecutive successful World cup campaigns as firstly Aaron Cruden slotted a crucial Drop Goal in the 2011 Semi Final, and Dan Carter did not shy away from a Drop Goal opportunity to seal the Final in 2015. Steve Hanses Motto of "those who dare win" can be seen clearly In Dan's Drop Goal from a very shallow offensive position, shown above. This shallow offensive position is a small way in which the All Blacks have made the drop goal their own, making it a far more dynamic threat and not something you can see, and try to defend, from the position of the fly half.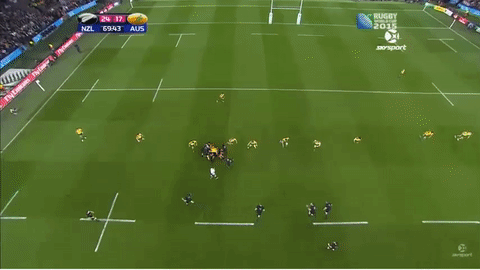 Although the All Blacks were the last Tier 1 Southern Hemisphere nation to consider the Drop Goal an option, as Argentina have always been confident in their ability to knock them over, As have the South Africans and Australians in more recent years, many believe that the Drop Goal was one of the key reasons why the All Blacks continuously struggled to win a world cup overseas as the pressure situations required a certain skill set that they had not quite perfected, Now that they possess this offensive weapon it will be interesting to see how often it is used in world rugby, And comparatively how often it is used in the 6 Nations in and the Rugby Championship.
The Rugby site is the only online coaching resource to offer a truly global perspective, subscribe for 12 months – now at a lower price point.