Nick 'Honey Badger' Cummins is rarely caught short of words, especially in his natural habitat of a post-match interview. However, the goldy-locked wing was fairly succinct on being asked to talk through his fine try for the Barbarians against Australia at Twickenham on Saturday afternoon.
"That's just the Barbarians way, mate," came the fair dinkum explanation to Sky Sports' Alex Payne, following a couple of seconds' thought.
Now, the concept of flair has something of a mystic aura in this modern age of video analysis and media scrutiny. The professional era has enhanced the rewards of victory, with the importance of painstaking preparation following suit. As such, the scope for off-the-cuff invention has narrowed – structures are far more sacred.
For this reason, the place of Barbarians fixtures in the international calendar feels very important at the moment. A squad coming together from all corners of the globe to socialise and cobble together a loose strategy – with strictly equal emphasis – is so refreshing.
When they perform as they did this weekend, running in five fabulous tries past the Wallabies, the invitational side encourages smiles around the world. Though Sir John Kirwan's charges went down 40-36, they will have stirred youngsters everywhere to shake off shackles and try things – a fantastic legacy.
Watch Wayne Smith's video – Principles of Attack / Game sense
However, the most eye-catching Barbarians play came from three pre-meditated first-phase moves, including that which led to Cummins' immensely popular score. That is far from a slight – each was extraordinarily innovative and caused Australia's defence considerable trouble.
It took all of two and a half minutes for All Black back-rower Steven Luatua to begin the fun with this American football-style lineout:
Launched into midfield, this throw drags the opposition away from structure into chaos, where – as an organised unit – they do not want to be. Because the Barbarians backs are aware of what is about to happen, they have an advantage and can time their runs accordingly.
The tactic creates a similar situation to that of a more conventional up-and-under with a coordinated kick-chase accompanying. The below screenshot demonstrates its effectiveness:
When Cummins reaches the throw on the full having hared in from his left wing, there is open space in front of him because Tevita Kurindrani and Henry Speight have not reacted as quickly.
If he had collected cleanly, something wonderful may have been on the cards. Unfortunately, the next piece of magic – conjured by Argentinian scrum-half Tomas Cubelli – came even closer to glory before succumbing to a handling error:
This soccer-type skill looks spectacular. The idea though, while undoubtedly outside the box, is a fairly calculated risk. As Cubelli takes a tap penalty and feigns to pass five metres from the try-line, the Australia defensive line attempts to shut down the Barbarians' space by tearing forward:
Inevitably, space is left behind them and the runners can pursue the unexpected chip. As this second clip shows, only a breakdown in communication and a consequent collision between fly-half Colin Slade and tighthead Angus Taavao-Matau prevents the try:
Before we put this down to blinding spontaneity though, note the smile on Francis Saili's face as the move is called:
His cheeky grin speaks volumes. Even the Barbarians plan – they just have a lot of fun doing it. Interestingly, more impulsive was this combination between England's Austin Healey and Mike Catt back in 2001, from phase-play rather than set-piece:
Assuming the scrum-half role, Healey turns his back and bends down as if to pass before hooking a kick into space. Set in a foot race against opponents who have to turn, Catt can sprint through to score in the absence of a sweeper.
A reverse angle is even better to show how the attack's instinctive understanding, communication and accuracy wrong-foots the French defensive press:
Back to the Barbarians 13 years later, and finally to Cummins' try mentioned at the top – a stunning strike move from a scrum:
Any first-phase try that is sent through the backline is special in its rarity. As mentioned previously, most modern defences are so efficient that any such score is condemned as an aberration. With that in mind, a host of steps must fall into place.
Watch Eddie Jones' video – Attack off 10
First, though it looks fairly nondescript, is Luatua's flick to Sarel Pistorius from the base of the scrum, which gives the South African room to fling a fast pass away to Marnitz Boshoff:
He in turn feeds livewire full-back Tim Nanai-Williams and, from there, runners are in motion. Circled in yellow is Tevita Kurindrani, who is crucial to the piece. He must decide whether to drift onto Francis Saili or stay put to cover Cummins: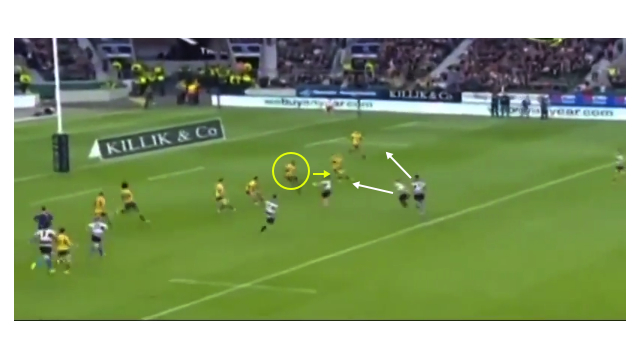 Nanai-Williams adds to the uncertainty by taking the ball parallel to the gainline and delaying his pass as long as possible. He leaves the ball in the air, perfectly weighted so that Cummins can trail him and hit the space vacated by Nanai-Williams neat step off his right foot back against the grain. Bernard Foley must follow to make the tackle, giving Kurindrani little chance:
Such precision means this move must have been rehearsed at some point during the Barbarians' bonding-filled week prior to Saturday. Still, the mettle and capacity to pull it off on the day made for a thrilling, inspiring spectacle. And who better to finish than the man who embodies the team's spirit?
Yes, Honey Badger's headband did those black and white hoops, not to mention a tradition of innovation, very proud.
Have the top teams become too structured? Are they missing out on opportunities to score? Or is the Barbarians' high-risk freewheeling style something that belongs only in festival games?
Not a member? Start a free 3-day trial to access all 60 video courses and learn from the world's best rugby minds.