Video library
Tackle Progression Series

with Ben Herring

Do you want to tackle like a pro? Here at TRS we've smashed together our best tackling coaches into one complete package!
Part 1. Tackle Warm Ups
4:56
Member content
Watch Wayne Smith and Chris Brown go through tackle warm ups. Enjoy!
This part is for subscribers only!
Subscribe now to get access to the full course, and the rest of the library.
Start a FREE trial
Watch Graham Henry and Brendon Ratcliffe go through beginnings of safe tackling. Enjoy! Play video
Continuing on with tackle safe - progression. Enjoy! Play video
Watch Graham Henry explain tracking well. Enjoy! Play video
In this video, Graham talks about tracking with pace. Enjoy! Play video
Watch Graham Henry and Brendon Ratcliffe explain the usage of pads and bags. Enjoy! Play video
In this video we explain a players perspective with Courtney Lawes. Enjoy! Play video
In this video Richie explains tackle technique from his perspective. Enjoy! Play video
Watch Wayne Smith talk about the frontal tackle. Enjoy! Play video
In this video Wayne Smith talks about Chop Tackle - Alignment. Enjoy! Play video
Watch Wayne Smith continue with the Chop Tackle - Sharp Lines and Leg Forward. Enjoy! Play video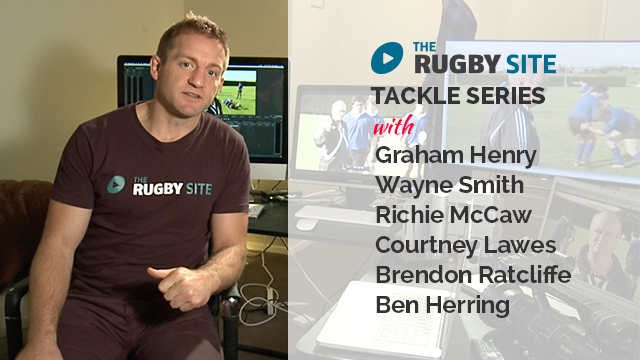 Watch Wayne in this video explain the 'When & Why' of Chop Tackle. Enjoy! Play video
In this video, Ben explains the closing space drills - pre contact. Enjoy! Play video
This video follows on from closing space - keeping square. Enjoy! Play video
In the final of the tackling series is Dictating Terms. Enjoy! Play video
Course
Part 1, Part 2, Part 3, Part 4, Part 5, Part 6, Part 7, Part 8, Part 9, Part 10, Part 11, Part 12, Part 13, Part 14, Part 15
Duration
90:09
Topics
Tackling Player Programme Youth Coaching
Applicable to

Coaches

Players

Others

Languages
English , Español

Click on CC button at top left of video for other translation options.
Course reviews
I took away a few great tips that I will take forward to my next session.

Mark Woodward

England
Given the most recent calls to have contact rugby banned in schools in the UK (Sept 17) this Tackle series by Ben is a powerful message to show how in depth training of the tackle is so important and so effective in reducing the chances of injury. A superb series which I am using with my U17s side very effectively.

John Walker

England
Micah

Canada
JM

Japan
Por favor, la traducción al español. Me inscribí, porque ustedes me dijeron que todos los videos estaban traducidos. Sino, pido mi reembolso. Gracias

Jorge Saleme

Argentina
This was a great series. I was hoping to get some ideas on how to coach and drill the double tackle (two men tackling the ball carrier). When watching high level rugby, I'm noticing more and more two defensive players are going after the ball carrier. Thanks!

Chris Botto

USA
Darryn Jamieson

Australia
Liked the approach to the warm up!!

Steven Hogg

Ireland
Muy bueno pero falta la traducción es a español

César Cat

Uruguay
Great exercises to apply at any stage of a players ability, age and size, looking forward to using these drills, thank you.

Tawhiri Hetaraka

Australia
traduccion a español por favor!!

diego anselmo

Argentina
Fernando Torrijos

Argentina
Por favor hagan la traducción a español. Muchas gracias !!!!!

Luis Yañez

Argentina
Subscribe now!
Get full access to all videos in this course and the rest of the video library. Learn with in-depth courses from the best rugby minds in the world, including:
Graham Henry & Warren Gatland
Wayne Smith & Eddie Jones
Sam Warburton & Richie McCaw
Leigh Halfpenny & Victor Matfield
---
Get instant access
Trial period available!