Video library
Keith Roberts - 7s Strength and Conditioning

with Keith Roberts

Watch Keith Roberts in this new series on 7s fitness training.
Part 1. Keith Roberts Promo
0:53
Free video
Watch this promo clip on our upcoming new series with Keith Robers - 7s Strength and Conditioning coach. Enjoy!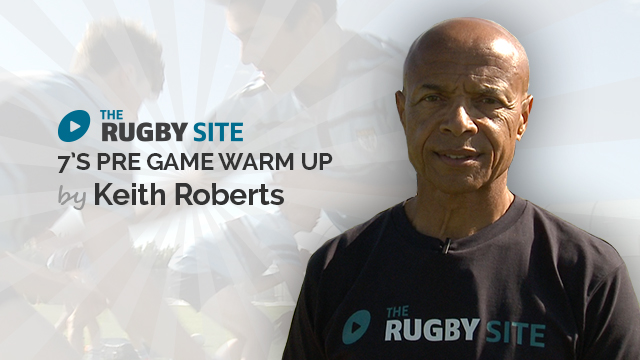 This video will show you the guidelines when preparing a 7s team that takes into consideration, the timings, the space available at a 7s tournament, and physical and mental switch-ons required to launch into a game at full turbo. Enjoy! Play video
This video shows you that you can get a 7s team fit whilst keep a ball in hand! Play video
Imagine a team that can play with the same intensity for the entire game. How can you raise the fitness standards to new heights? Watch Keith's video now! Play video
Keith Roberts is back on the grass, showing you the 'ins and outs' of keeping your team fit. Enjoy! Play video
Expert strength and conditioning coach Keith Roberts is back with another of his speed drills. Enjoy! Play video
Keith is back with his 7s conditioning training. This video we look at winders. Enjoy! Play video
Course
Part 1, Part 2, Part 3, Part 4, Part 5, Part 6, Part 7
Duration
44:00
Topics
Sevens Youth Coaching Conditioning
Applicable to

Coaches

Players

Others

Supporters and fans

Languages
English

Click on CC button at top left of video for other translation options.
Course reviews
Excellent and will certainly use as a 7s warmup

Mark Manderson

USA
This series of videos from Keith Robert are bloody good. Basics fitness and speed drills that can be used across the age groups of players you are coaching.

Kerry Lewis

New Zealand
Excellent drill for groups of 12, but many of us work with different size groups- we would need to modify or sub in players.

K.O. Onufry

USA
Ruben Francisco Acevedo

Argentina
Great Pre game warm up simple and can be used everytime. Nice.

Pamela Hadikin

Canada
Love the Eric Rush and the Gilies Kaka stories

john royal

USA
andres Monteverde

Argentina
He's right… "girly style" is sexist. It should be removed.

Morgan Whitlock

Great Britain & Northern Ireland
Translation in spanish please

Sebastian Suarez

Argentina
Joseph-Daniel boyd

USA
Quality coach. Been using these for a while and fitness has improved dramatically

Sam Seacombe

England
Thanks for the skill specific drills Keith, I'm confident that our boy's will benefit from these exercises both mentally and physically, once again thank you.

Tawhiri Hetaraka

Australia
Darryn Jamieson

Australia
Just going out to do this now! Looks like a great drill.

Felix Stocker

England
Top stuff. Will definitely be using this.

Dali Ndebele

New Zealand
Awesome stuff Keith! Look forward to more- love the dimmers bro- we don't get sun like that in the N hemisphere! (makes me home-sick seeing rugby training in the sun like that!)

Will Mbanga

England
Enjoyed this constant motion and decision making and emphasis on good communication when outnumbered in defence.

Rich Avery

England
short sharp – need this yesterday. Will use next weekend.

Peter Wood

Scotland
Good warm up. Next one – ditch the shades – eye contact is important.

Peter Telford

England
good precise demo….I will be using the on my u15s squad

Richard Dzisiewski

England
not a review: just very excited for this series!

Cameron Sands

USA
Subscribe now!
Get full access to all videos in this course and the rest of the video library. Learn with in-depth courses from the best rugby minds in the world, including:
Graham Henry & Warren Gatland
Wayne Smith & Eddie Jones
Sam Warburton & Richie McCaw
Leigh Halfpenny & Victor Matfield
---
Get instant access
Trial period available!