Video library
2017 USA Coaching Clinic

with Sir Graham Henry

Coaching clinic with ... All Black World Cup winning coach SIR GRAHAM HENRY.
Part 1. 2017 USA Coaching Clinic Promo
0:58
Free video
A rare opportunity to enjoy an evening or a rugby coaching session with one of Rugby's best ever coaches: All Black World Cup winning coach SIR GRAHAM HENRY.
Watch Sir Graham Henry at Stanford University explain the attack game and decision making by the players. Enjoy! Play video
In this video, Ted discusses attack options from the scrum. 80% of tries are scored from the set piece or within 2 phases. Watch and learn! Play video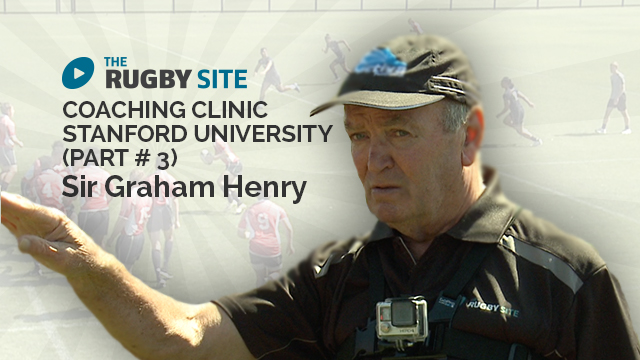 Ted continues his attack options discussion. This time the focus is on the breakdown attack options. Communication, knowing your role, and keeping it simple! Play video
Sir Graham Henry leaves the classroom, dons the Go Pro, and goes through his Strike 1 plays at Stanford University. Play video
Course reviews
Hi there I'm Lionel .what a fantastic way of simplify coaching.I've learnt a he'll of lot of paying attention to detail..and that repetition.is very important.

Lionel Langenhoven

South Africa
Hopefully some of the coaches at junior and school level will use these systems as it will help the players going forward into senior levels knowing what to do from an early age Simply effective systems cheers Ted

Brendan Molloy

New Zealand
Excellent overview of attack. The clarity and simplicity of the ideas is superb.

Richard Feeney

Ireland
Genius. Sums up the differences between the abs and the rest.

andy king

England
Ted your a ledgend. Luv your wit as only you can do

John Mckinnel

New Zealand
Excellent again Ted, keeping it simple. TQB OTG LQB KBA

Richard Bell

England
Some of the key points…1. Get over the advantage line because of numbers and space. 2. Everyone is live in the attacking play. 3. One strike but many options. 4. Weak points are the 10 channel and outside the 13. 5. Run straight to fix defenders. Thanks for simplifying things Ted.

Stacye keelan

New Zealand
The Guru is back! More rugby wisdom please!

Quinton Ho

Australia
Excellent, please keep more of this session coming if possible

Jack Bukowski

USA
Great video, the master of rugby knowledge. best of all time.

Simon Kacimaiwai

Australia
Genial! Gracias Señor Henry.

Luis Felipe Gonzalez

Mexico
Found it very useful for this Friday's U14 session. The answer we hope to the difficult "teenage transition" from individual stars to collective threat.

Peter Telford

England
Dirk

Belgium
Subscribe now!
Get full access to all videos in this course and the rest of the video library. Learn with in-depth courses from the best rugby minds in the world, including:
Graham Henry & Warren Gatland
Wayne Smith & Eddie Jones
Sam Warburton & Richie McCaw
Leigh Halfpenny & Victor Matfield
---
Get instant access
Trial period available!