Video library
2017 USA Coaching Clinic - Attack Strategies

with Sir Graham Henry

Coaching clinic with ... All Black World Cup winning coach SIR GRAHAM HENRY.
Part 1. 2017 USA Coaching Clinic Promo
0:58
Free video
A rare opportunity to enjoy an evening or a rugby coaching session with one of Rugby's best ever coaches: All Black World Cup winning coach SIR GRAHAM HENRY.
Watch Sir Graham Henry at Stanford University explain the attack game and decision making by the players. Enjoy! Play video
In this video, Ted discusses attack options from the scrum. 80% of tries are scored from the set piece or within 2 phases. Watch and learn! Play video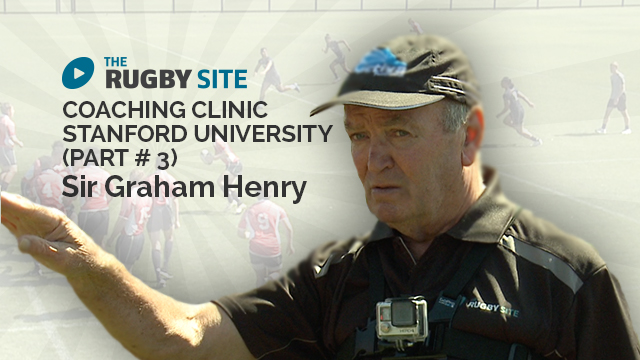 Ted continues his attack options discussion. This time the focus is on the breakdown attack options. Communication, knowing your role, and keeping it simple! Play video
Sir Graham Henry leaves the classroom, dons the Go Pro, and goes through his Strike 1 plays at Stanford University. Play video
In this video, we look at set piece, fitness, catch and pass, and skill improvement. Enjoy! Play video
Sir Graham is back in the classroom talking, rabbits, hands, worms, and long. What do they all mean? Watch his latest video to learn more! Play video
Watch Ted's latest video, which continues on from his coaching clinic, explaining The Pig. Enjoy! Play video
Watch Ted in this continuation of his afternoon session. Enjoy! Play video
World cup winning ex All Black coach, Sir Graham Henry fields questions from coaches during his recent northern Californian clinic. Enjoy! Play video
During his USA clinic at Stanford, Sir Graham was asked how he approached individual skill development. Watch now to learn more. Play video
Sir Graham Henry stays in the front of the room this week as he answers more questions from his Northern Californian clinic. Enjoy! Play video
This week Ted covers using the right people in the right positions. Enjoy! Play video
Substitutions - when to use them and why? Watch Graham explain in this video. Enjoy! Play video
Sir Graham Henry certainly changed and improved over his career. Find out what his keys and views are. Enjoy! Play video
Course
Part 1, Part 2, Part 3, Part 4, Part 5, Part 6, Part 7, Part 8, Part 9, Part 10, Part 11, Part 12, Part 13, Part 14, Part 15
Duration
128:56
Topics
Attack Youth Coaching
Applicable to

Coaches

Players

Others

Supporters and fans

Languages
English

Click on CC button at top left of video for other translation options.
Course reviews
Loved it! Straight talking and easy to understand the concept being discussed.

Matt Gibson

England
oh.. brilliant! i,m preparing the final examination to become a coach for the youngs team, here in Italy. and this site , help me so much ,to promote a new mind form, in the future seniores players. and only God knows how much we need to change our game mentality—-(sic!)

Manuel Moroso

Italy
Part 1 Strike 1 is a nice a clear breakdown of an initial attacking phase of play. Parts 2 & 3 are just ramblings involving numbers and arrows on a white board. There is very little to take away from these clips. You could easily narrow down the latter two strikes into a few concise points of emphasis without going on and on about the possibilities of every situation.

Thomas McNeil

USA
Gold. Rotating into coaching the backs for the first time in a while, this info is [ure gold for me!

gerhard moerdyk

New Zealand
andres Monteverde

Argentina
Great vision of the game, tks Sir

Luiz Melo

Brazil
no hablo ingles y por ello no puedo entender lo que dicen porque no me aparece traducido el video

manuel vera

Argentina
ezequiel

Spain
I really need a 2-4-2 tutorial from the basics. Specifically, how do the backs interface with the forwards?

Jesse Borghesi

USA
please, translate in spanish

Adrian Espinosa

Argentina
me gustaria que lo traduzcan al idioma español para comprenderlo mejor gracias.mi ingles es limitado.

ricardo enrique hortt

Argentina
Key points and aspects well explained as fundamentals of an attacking game plan.Great !

Gerhard.Coetzee

South Africa
A lot to be said about his sense of humour. Puts the players at ease and creates an enjoyable learning environment. Cheers Ted

ed barnes

Ireland
This is the reason I pay my subscription – access to the master himself – more please

Ian Hollingworth

England
Graham Henry talks my language…good to hear it from the master.

ALAN ZONDAGH

South Africa
Still funny to see myself in the audience watching :)

Andrew Hay

USA
Please translate in SPANISH we need so more this !!!

Sebastian Suarez

Argentina
Hi there I'm Lionel .what a fantastic way of simplify coaching.I've learnt a he'll of lot of paying attention to detail..and that repetition.is very important.

Lionel Langenhoven

South Africa
Hopefully some of the coaches at junior and school level will use these systems as it will help the players going forward into senior levels knowing what to do from an early age Simply effective systems cheers Ted

Brendan Molloy

New Zealand
Excellent overview of attack. The clarity and simplicity of the ideas is superb.

Richard Feeney

Ireland
Genius. Sums up the differences between the abs and the rest.

andy king

England
Ted your a ledgend. Luv your wit as only you can do

John Mckinnel

New Zealand
Excellent again Ted, keeping it simple. TQB OTG LQB KBA

Richard Bell

England
Some of the key points…1. Get over the advantage line because of numbers and space. 2. Everyone is live in the attacking play. 3. One strike but many options. 4. Weak points are the 10 channel and outside the 13. 5. Run straight to fix defenders. Thanks for simplifying things Ted.

Stacye keelan

New Zealand
The Guru is back! More rugby wisdom please!

Quinton Ho

Australia
Excellent, please keep more of this session coming if possible

Jack Bukowski

USA
Great video, the master of rugby knowledge. best of all time.

Simon Kacimaiwai

Australia
Genial! Gracias Señor Henry.

Luis Felipe Gonzalez

Mexico
Found it very useful for this Friday's U14 session. The answer we hope to the difficult "teenage transition" from individual stars to collective threat.

Peter Telford

England
Dirk

Belgium
Subscribe now!
Get full access to all videos in this course and the rest of the video library. Learn with in-depth courses from the best rugby minds in the world, including:
Graham Henry & Warren Gatland
Wayne Smith & Eddie Jones
Sam Warburton & Richie McCaw
Leigh Halfpenny & Victor Matfield
---
Get instant access
Trial period available!