Video library
Tackle - Session Plan for Youth

with The Rugby Site

We advance the tackle session plan for players at a level where defensive systems are now a part of the game strategy and players are bigger and are moving at a greater speed. Individual and team alignment is important in the tackle decision. Again this training session is set for 40-45mins. Make sure the warm up is effective as players are into contact. You can individualise player skills in this session as well.
Part 1. Tackle Warm up 1
12:38
Member content
Every training session starts with a warm up and tackle practice is no different. For the youth/high school player Josh Syms introduces a couple of exercises that prime the player for the tackle practice but also helps develop specific tackle technique. As always adds a bit of competition and fun to the program.
This part is for subscribers only!
Subscribe now to get access to the full course, and the rest of the library.
Start a FREE trial
Josh Syms details his 2nd Tackle warm up exercise. Josh works from the feet to the shoulders and everywhere in between to prepare for the tackle collision. Play video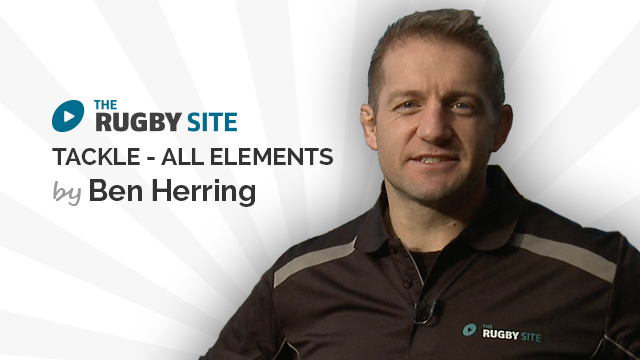 Lets get into some tackling. Ben Herring's all elements video is the ideal for tackling players. It shows all the key technical elements to effect a safe strong tackle. If your players are having difficulty with the tackle technique, use Ben's in individual tackle skills videos to improve them. This part of the session you can individualise players tackling technique and improve them. Play video
If you have tackle bags and shields use them. They make for safer training, less injuries and you can hone the players tackling skills. Plus players love hitting the bags! Follow Brendon and Sir Graham Henry's directions and you will be fine. Play video
Most tackle technique is based on the front on tackle. The Chop tackle is a very effective and required tackle for your defensive line. Implement Wayne Smith's instructions and your players Chop Tackles will be very effective to take down any player. Play video
Tackling is part of a team's defensive system. The tackle itself is executed as an individual or in tandem. This drill starts players to understand the defensive setup and how they fit into it. Plus it gives them a break from the contact. There are 3 video parts to the defence setup - Tracking, Line Integrity, and Alignment. Start with tracking and then build into line integrity and alignment. Clarke Laidlaw provides a drill for players to understand tracking. Play video
Sir Graham Henry explains how to set-up defensive line integrity. Play video
To finish your session, practice some defence alignment and realignment. Rodney So'oialo explains a good drill and what to consider with it. Play video
Course
Part 1, Part 2, Part 3, Part 4, Part 5, Part 6, Part 7, Part 8
Duration
89:13
Topics
Tackling Session Plans
Applicable to

Coaches

Players

Others

Supporters and fans

Languages
English

Click on CC button at top left of video for other translation options.
Course reviews
Interesting that he's moving away from the dance before contact, particularly because its harder to change direction.It makes perfect sense, but I imagine there will be a lot of coaches having to untrain what they have trained.

Good challenge for us!

Keri Lovell

Wales
Great stuff. Simple technique drills to use with my U13s.

Simon Northfield

Australia
Hola , algunos videos, no tiene traducción en inglés

lucas brouwer de koning

Argentina
David daniel

Venezuela
Subscribe now!
Get full access to all videos in this course and the rest of the video library. Learn with in-depth courses from the best rugby minds in the world, including:
Graham Henry & Warren Gatland
Wayne Smith & Eddie Jones
Sam Warburton & Richie McCaw
Leigh Halfpenny & Victor Matfield
---
Get instant access
Trial period available!