Video library
Midfield Back Roles

with Conrad Smith

In this series Conrad offers some great insight in how he prepares for his rugby.
Part 1. Conrad Smith Promo
0:57
Free video
Watch Conrad in this promo of his upcoming series.
Watch Conrad in the first of this series explain basic hands and missed passing. Enjoy! Play video
Conrad Smith is the intelligent rugby player. Here he talks us through the why and hows of a backline cut play.. Play video
This week Conrad steps through the basic principles of the backline and its defence structures. Play video
This week Conrad steps through different attack scenarios and what midfield backs should be considering for each situation. Play video
This week Conrad works through the fundamentals of the Block or Roll ball backline move. Play video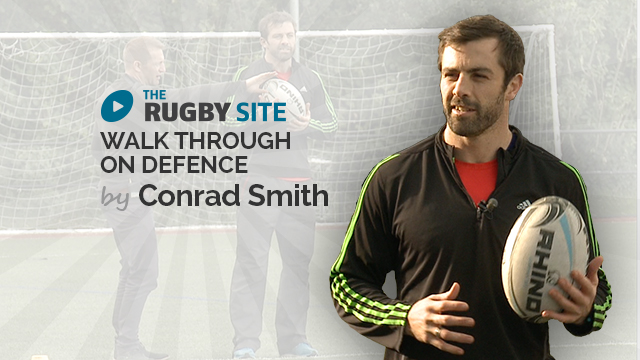 In this video, Conrad gives us invaluable insight into what midfield backs should consider for a variety of defence situations on different parts of the field. Play video
Conrad focuses his final video with the Hutt Valley High boys on his strength midfield defence. Play video
Course
Part 1, Part 2, Part 3, Part 4, Part 5, Part 6, Part 7, Part 8
Duration
57:08
Topics
Player Programme Position specific
Applicable to

Coaches

Players

Others

Supporters and fans

Languages
English

Click on CC button at top left of video for other translation options.
Course reviews
Juan Maineri

Argentina
Great to see the Boyd! And Smithy the man

Loveni Enari

Spain
i looking for video with subtitles in spanish but not found

Ruben Francisco Acevedo

Argentina
Should be required viewing for all new coaches and all players.

John Walker

England
Rui Farrant

New Zealand
Great stuff from a rugby legend

Sam Seacombe

England
Muy bueno, pero sería más útil si estaría subtitulado

Sebastian Suarez

Argentina
Great way for young players to learn how to read or anticipate what the offensive side is doing. Thanks Conrad. Go Hurricanes!!!

Silivelio Alaalatoa

USA
Paulo Westerlund

Australia
Stiben Yigibalom

Australia
Muy bueno, pero sería más útil si estaría subtitulado, más en la parte 5

gustavo miguel pablo bendini

Argentina
César Cat

Uruguay
best in the world stressing the basic fundamentals, simple and percise

vaughn

USA
Toru Kono

Japan
Great drill. Simple but effective

Chris Moore

Wales
jim fitzgerald

USA
Hamiora Ngaheu

New Zealand
Tiffany Faaee

USA
Fred Moe

Arabian Gulf
Gerhard.Coetzee

South Africa
Genius using bags to represent the offense.

Kevin Sullivan

USA
Spot on for our current situation. against a team that loops, and tries to overload the outside.

Jerry Winter

USA
good video clear and simple concepts for attack and defense

Guillermo Ledesma

Argentina
sorry with Firefox and Internet Explorer i cant view videos?

Phil

Germany
subtitulado en español por favor

Charly Garcia

Argentina
Spanish please, ????????????

Manuel Ramos Rodriguez

Spain
very simple and clear. like the explaination of each role

Gearoid Clarke

Ireland
Good, clear, concise and most of all, a reminder to practice skills passing every training session.

Andre de Meyer

South Africa
Great delivery, learn a lot already in a very short time.

Kas Kafoa

Australia
Good video. Just from a coaching standpoint if the 13 is too focused on impeding they don't become a very good option for the 10. Usually I have my 13 target the inside shoulder of 12 on attack in the last few steps with hands up ready to recieve. That way the option is with your 10 to hit either player. I think this is what you trying to get across near the end of the video. I would definetly spend some time adjusting his line to add more deception.

Nevin Morrison

Canada
Carlos Carignani

Argentina
Very well put together, simple, concise and clear.

Jonsey

Canada
Excellent really useful simple but clear detailed points

andy king

England
Robert o brien

England
Simple stuff from Conrad but well explianed

Brett Fell

Australia
clear and concise with key points

Rob Ogilvie

England
taking the extra steps after releasing the pass really keeps the hole and often allows the cutting player to get on his vertical line quicker and be more effective

Simon green

Great Britain & Northern Ireland
Q, do you think looking in the eyes of the defender before the move helps to fix him onto you aiding creating the hole. What do you do to fix that defender?

Brendan Molloy

New Zealand
Excellent module on basic core skills delivered by a world class no mistakes centre. Looking forward to your future sessions.

Richard Bell

England
very useful and recapping on simplicity

Joe Sullivan

England
great drill well presented and explained.

Paul Platts

New Zealand
andres Monteverde

Argentina
These key fundamental core skills are at the centre of the game. Great to see and good to hear effective use of questioning techniques. Basics done well under pressure.

Dale Smallman

England
simple – well put across – like his style.

Peter Wood

Scotland
very well explained and simple drills to use in training sessions.

mark richardson

England
Like the reinforcement of basic skills as the building blocks to great play.

Jon Boyle

England
Simple but effective. Highlights the key points. Delivered clearly and concisely. Excellent other messages around flashy moves and reinforcement of what is crucial to be an effective & potent attacking line.

Anthony Mills

Australia
Basic Drill excellent use of Key Factors well presented by a great centre

Finbarr O'Regan

Ireland
Simple drill brilliantly executed and explained by Conrad Smith.

Rob Davies

England
Looking forward to the series, from a great current player.

Roger C Croft

France
Excellent great to see one the worlds greatest midfielders giving us useful tips. Can't wait for the rest of the series.

Mark Cvitanich

New Zealand
looking forward to seeing more videos from snakey

zak costar

Australia
Subscribe now!
Get full access to all videos in this course and the rest of the video library. Learn with in-depth courses from the best rugby minds in the world, including:
Graham Henry & Warren Gatland
Wayne Smith & Eddie Jones
Sam Warburton & Richie McCaw
Leigh Halfpenny & Victor Matfield
---
Get instant access
Trial period available!