Video library
Courtney Lawes - Tackle

with Courtney Lawes

Courtney Lawes is renowned for his ability to make big hits and his versatility in the forward pack, being at home in both the second and back rows. Growing up beside Franklin's Gardens, Courtney was a club player for Northampton Old Scouts' RFC and now plays for the Northampton Saints. He won the first of his 14 English caps against Australia in 2009, aged 19 and won Investec Man of the Autumn Series in 2010. His athleticism, 6'7" frame and uncompromising style ensures Courtney challenges opponents in all aspects of the game.
Part 1. Ball carrying & clear out
4:31
Member content
This session from one of the most physical players in world rugby, focusses on the two key roles and responsibilities at the breakdown. The ball carrier and the clearer. Courtney Lawes uses all of his 6' 7" frame to demonstrate how to get your team on the front foot, retain possession and deliver fast, effective ball in the contact area.
This part is for subscribers only!
Subscribe now to get access to the full course, and the rest of the library.
Start a FREE trial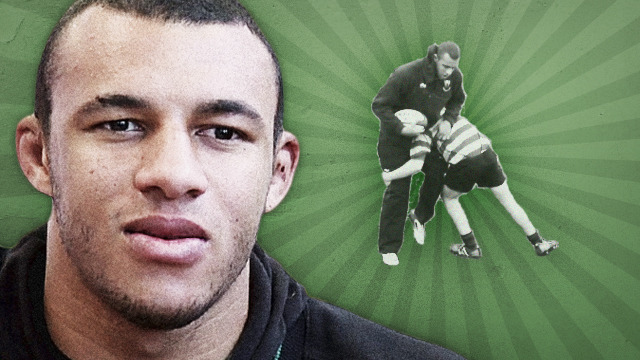 "I love defending and putting in big hits, but you have to understand that the safest technique is also the best technique." In this video Courtney Lawes takes you through the tackling technique that works for him. From the importance of foot placement in generate force through to being comfortable using both left and right shoulders and of course head placement for safety. Play video
Course
Part 1, Part 2
Duration
09:11
Topics
Player Programme Coaches Corner
Applicable to

Coaches

Players

Others

Languages
English

Click on CC button at top left of video for other translation options.
Course reviews
Great videos from Courtney. Wasn't sure what to expect as he's often portrayed in commentary as a tackle machine and little else.

These videos show his great knowledge and obvious work ethic but also coaching technique. Everything is clearly explained, roles identified, good examples praised. Well worth a watch.

Stu Barter

Wales
Great, concise explanations from someone who walks the talk – man's got a future as a coach.

Loveni Enari

Spain
Please, i suscribe in this site for to watch the videos in spanish (transcribo y adhiero a diago castillo)

Charly Garcia

Argentina
adhiero a la posicion de diego castillo.

Jorge Angel Oliva

Argentina
Please, i suscribe in this site for to watch the videos in spanish

diego

Brazil
Very simply explained, simple drills and game related.

Roger C Croft

France
Good demonstration of the skill and correct technique. Also excellent reinforcement of the key points to focus on.

Anthony Mills

Australia
Subscribe now!
Get full access to all videos in this course and the rest of the video library. Learn with in-depth courses from the best rugby minds in the world, including:
Graham Henry & Warren Gatland
Wayne Smith & Eddie Jones
Sam Warburton & Richie McCaw
Leigh Halfpenny & Victor Matfield
---
Get instant access
Trial period available!