Video library
Catch and Pass - Session Plan for Junior Players

with The Rugby Site

This practice plan is a Catch and Pass practice plan for junior players. Giving coaches a plan for your session with a focus on skill development plus player enjoyment. The time spent on the parts of the session is dependant on the time you have available. You shouldn't spend more than 40-45 minutes with junior players training.
Part 1. Warm-up Rugby Net-ball or Grid passing
6:20
Member content
Players need to warm up for the type of practice you are planning. Always warm up with the ball. Rugby netball or Grid passing are good games to start with. As Ben highlights - it is also about identifying the skills and creating an awareness for the players.
This part is for subscribers only!
Subscribe now to get access to the full course, and the rest of the library.
Start a FREE trial
Ex All Black full back and 100 test centurion Mils Muliaina introduces a static Catch and Pass drill for junior players. This basic drill helps player learn to stay straight pass through their body, hands out to the ball and passing to the target. Coaches you can use this drill or Hamish Webb's next drill during this part of your practice session. Both are great for beginners skills and you can have plenty of fun with them. Play video
Rugby Site's UK Manager Hamish Webb demonstrates a Catch and Pass drill focusing on the fundamentals of the Catch and Pass. Grip the ball properly to pass. Hands out early to greet the ball. Point the ball at the target. Pass the ball like it's on a rope to the target. Play video
Ben Herring introduces Line Passing for players to get comfortable catching and passing the ball across their bodies both sides in a restricted space. Play video
Hamish Webb introduces another simple Catch Pass Drill for junior players to develop their Catch Pass. This time it is a multi pass drill emphasising the core skills. Play video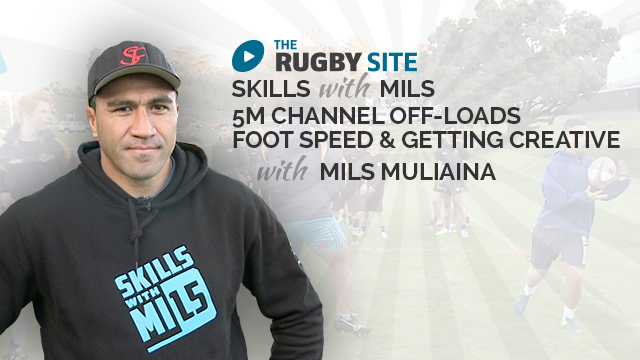 Mils Muliaina introduces a 5m channel drill for players to start looking at Offloading, foot speed, and passing decisions. plus have a bit of fun. Play video
Rugby Site Manager and now Otago coach Ben Herring has put together a Practice Plan focusing on Catch and Pass activities. Looks like lots of fun involved! Play video
Course
Part 1, Part 2, Part 3, Part 4, Part 5, Part 6, Part 7
Duration
55:10
Topics
Catch and Pass Session Plans
Applicable to

Coaches

Languages
English

Click on CC button at top left of video for other translation options.
Course reviews
As a level 2 coach but in my first season coaching my clubs U10s side I am learning to approach coaching from a slightly different but enjoyable perspective. The way Ben delivers his catch and pass lesson indoors is informative to watch. One point I would make though in relation to the Communication question of Name and Action is to include Listening skills into the mix. An important part of the process I believe especially with the younger players. Apart from that Ben as usual delivers excellent and enjoyable lessons and I learn a lot from him.

John Walker

England
Subscribe now!
Get full access to all videos in this course and the rest of the video library. Learn with in-depth courses from the best rugby minds in the world, including:
Graham Henry & Warren Gatland
Wayne Smith & Eddie Jones
Sam Warburton & Richie McCaw
Leigh Halfpenny & Victor Matfield
---
Get instant access
Trial period available!