Video library
Attack - Individual

with Conrad Smith

Individual attack skills are an integral part of a team's training. Whether it is the big block busting Jonah Lomus or pint sized Shane Williams, there are attack skills to suit.
Part 1. Individual Attack Skills
1:04
Free video
Better to have and use than to be trying to stop them as analyst Hamish Webb highlights in our latest Skills Analysis video
High ball attack is used as an attack strategy in today's game. Ex All Black and 2x World Cup winning coach Wayne Smith details how to contest your own high ball. Play video
The easiest midfield attack play is the missed pass to create space out in the wider channels. Ex All Black midfield and 100 test player Conrad Smith explains the fundamentals of the missed pass. Play video
Cut plays and having players in motion is a way to break up opposing defence lines. Ex All Black midfield and 100 test player Conrad Smith walks through the why and hows of a backline cut play. Play video
Ex All Black midfield and 100 test player Conrad Smith works through the fundamentals of the Block or Roll ball backline move. A simple but very effective midfield backline move. Play video
Ex All Black midfield and 100 test player Conrad Smith steps through different attack scenarios and what midfield backs should be considering for each situation. Insights from one of the best to ever play in the midfield for the All Blacks. Play video
Wales and British and Irish Lions wing and legend Shane Williams breaks the sidestep down, taking you through his skill checklist and showing you how the ball carrier and support runners can manipulate defenders and defensive lines to beat and unlock them. Watch and learn direct from one of the best attacking players the game of rugby has ever seen. Play video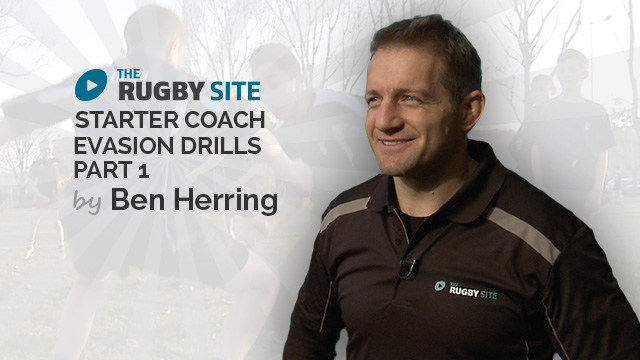 Evasion is what rugby is all about. Otago coach Ben Herring teaches some really basic drills to help players of all ages improve their evasion skills. Play video
In part 2 of the Evasion skills videos we watch Ben explain the magic step drill to the kids. Play video
Otago rugby coach Ben Herring takes us through the process of learning how to be a great stepper. Stepping is about creating a co-ordination, a series of foot movements you can apply given any situation. Play video
Watch how Ben creates a 'sword' of a fend for you to cut through opposition defences. Also note how Ben emphasises to protect the ball away from the defender. Play video
We have stepped, made the fend and now we hit the gaps. Watch it now and see how to evade the defences! Play video
Offloading is now a big part of any rugby attack plan. But how do you teach an offload? Where do you start? Watch this video to find out. Play video
Ben Herring puts together, with his Otago Boys High school players an Evasion Practice. Looks like alot of fun for everyone. Play video
Course
Part 1, Part 2, Part 3, Part 4, Part 5, Part 6, Part 7, Part 8, Part 9, Part 10, Part 11, Part 12, Part 13, Part 14
Duration
95:32
Topics
Attack
Applicable to

Coaches

Players

Others

Languages
English

Click on CC button at top left of video for other translation options.
Course reviews
No reviews yet! Maybe you can watch and let us know what you think?
Subscribe now!
Get full access to all videos in this course and the rest of the video library. Learn with in-depth courses from the best rugby minds in the world, including:
Graham Henry & Warren Gatland
Wayne Smith & Eddie Jones
Sam Warburton & Richie McCaw
Leigh Halfpenny & Victor Matfield
---
Get instant access
Trial period available!